主页 / 市场传播 / 新闻 / UK specialised press visits MCM
UK specialised press visits MCM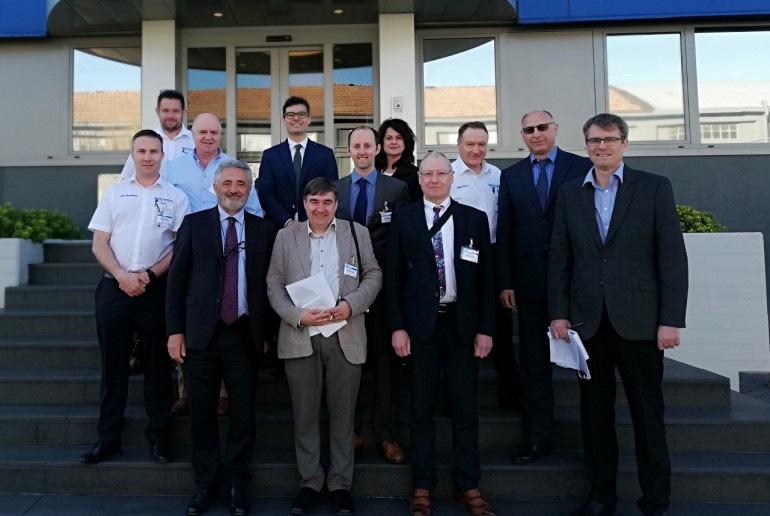 Thanks to our English agent RK International Machine Tools, at the end of March we met the editors of the main British specialised publications: Production Engineering Solutions, Aerospace Manufacturing, Machinery, Machinery Market, Engineering Subcontractor
Our CEO Mr. Gian Luca Giovanelli welcomed the visitors and opened the meeting with presentation of the company. The visit continued with a tour of the production departments, pre-assembly areas where the key components of our machining centres are built, machine assembly area islands, the metrology room with quality control.
The most complex cases solved in the recent past in different application sectors, considered technologically challenging, have been illustrated, demonstrating the global expertise of MCM.
Thanks to the availability of our customers we were also able to show our machining centerscentres in full operation.
SA-GI of Vigolzone (PC) has welcomed us into its active and dynamic production environment with numerous machines of various technologies and 8 MCM machining centres working at full capacity.
The visitors were favourable impressed to see how a local company has been able to equip itself with such a high level of automation. SA-GI, a leader in third party manufacturing for mechanical engineering, has very well understood MCM philosophy, all its centres are equipped with multi-pallet systems and jFMX management software (MCE), distinctive elements features allowing the highest degree of autonomy and flexibility.
The following day SECONDO MONA S.p.A. welcomed us in its historic headquarters in Somma Lombardo. The visit was greatly appreciated by the visitors and we felt proud to count Secondo Mona among our customers. The company was founded established in 1903 and has been run by the same family for four generations. It represents an absolute Italian excellence in the aeronautical sector. They designed and produce themselves a large number of components, and have an impressive know-how developed in complex machining processes.
Secondo Mona has gone through history and has constantly invested in new technologies to achieve high production flexibility and high quality standards. MCM is part of this technological growth with seven machining centres operating at Secondo Mona, both stand-alone with multipallets and in FMS configuration.